Short Stories
---
The following stories are part of John Hope's Shorts Volumes 1 and 2 collections, as well as in smaller theme-based collections. These collections are available from the following links: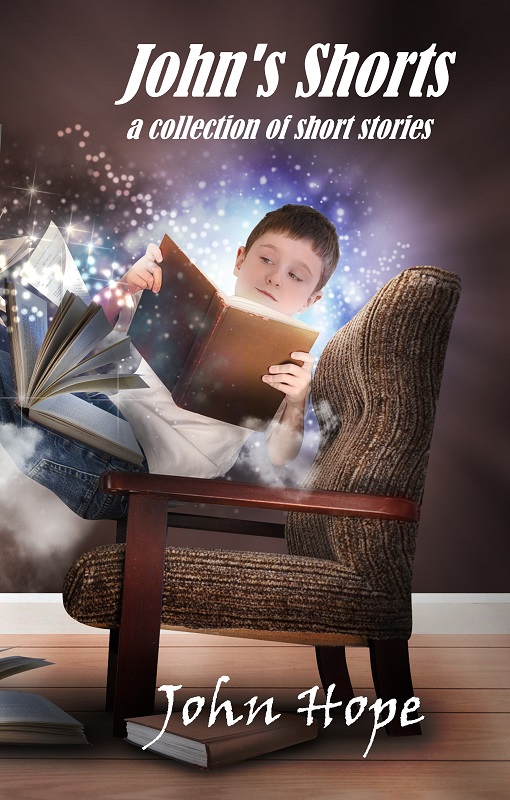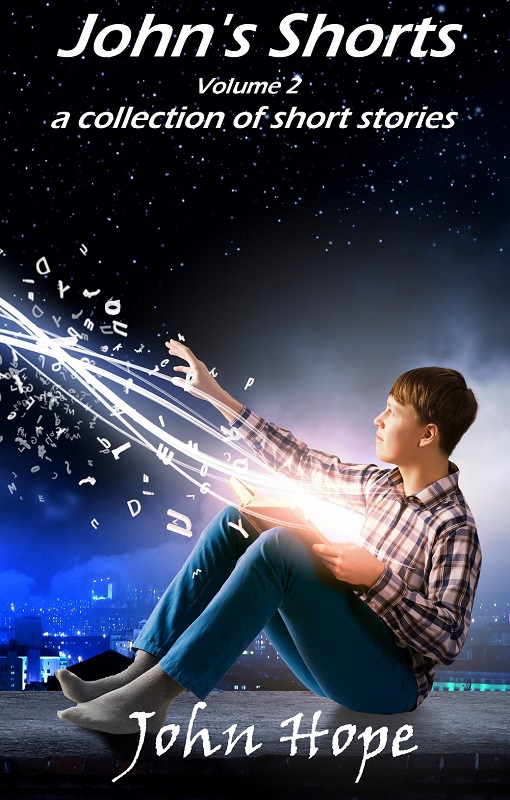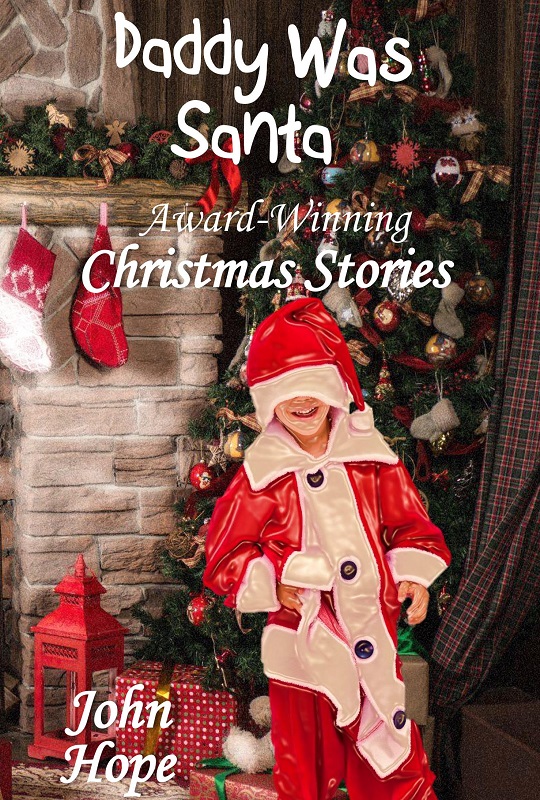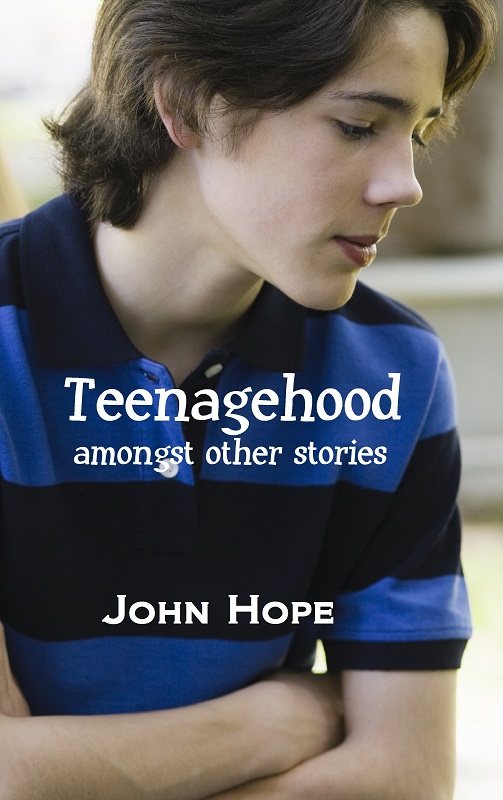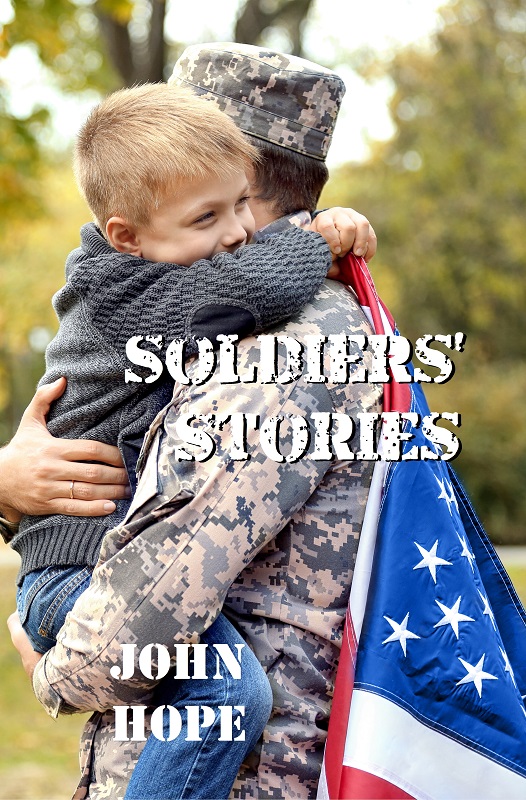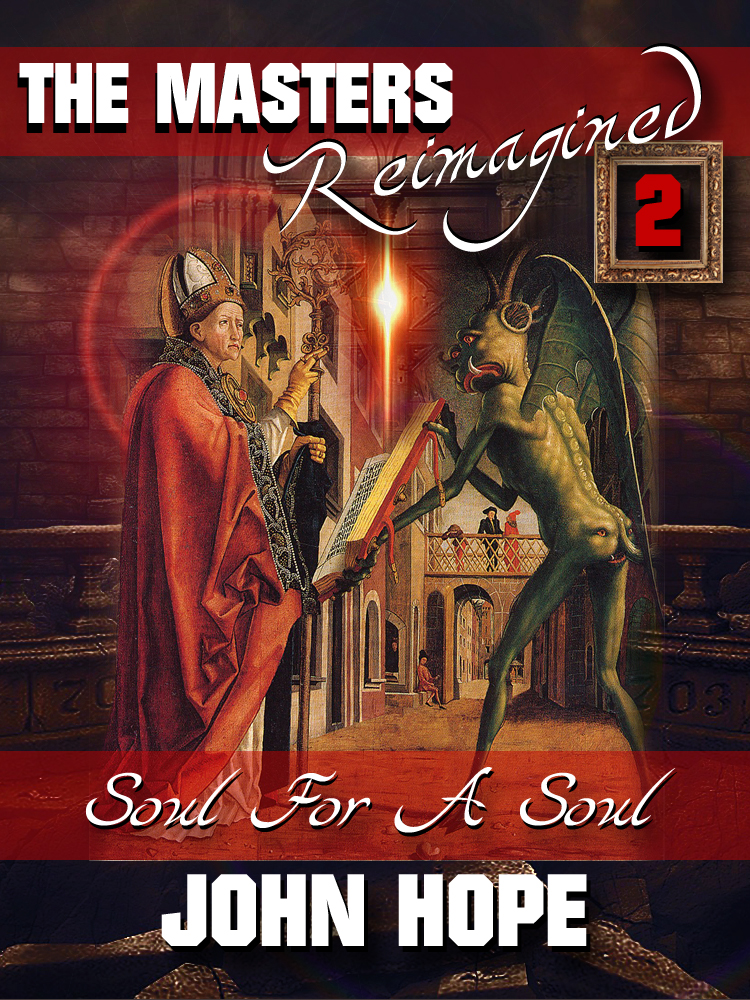 Don't have a Kindle or NOOK? You can read these on your computer.
Check out the Free Kindle for PC or NOOK for PC.
John's Shorts Volume 3

---

Jaxpiration and Other Inspirational Stories

A collection of four inspirational short stories centered on being a creative writer and storyteller. Stories include Jaxpiration, A Jaybird in a Thunderstorm, The Horrors of Being Nine, and The Visit.



Kindle eBook




Hide and Seek

When an American Korean War pilot is shot down behind enemy lines, he is lost in a snowy forest and forced to play a macabre game of hide and seek with the Chinese Army in order to survive.



Kindle eBook




Rat Boy

An abandoned eight-year-old boy, trapped in a house of abusive druggies, must salvage for food to survive.



Kindle eBook




The Night Aliens Arrive

While playing tag with his pals, Vikor witnesses aliens crashing to earth, but no one believes him. Later, when they show up in his barn--injured and desperate, he needs to follow Papa's orders and come to their aid before Grandpa kills them for being Nazis.



Kindle eBook



John's Shorts Volume 2

---

Kung Fu Ben Strikes Again

After Harold walks to his back porch and is almost hit by a body falling out of the sky, he is ensnared by two bizarre opposing families and must rely on his nutcase roommate - Kung Fu Ben - to survive.



Kindle eBook


NOOK eBook


Helen's Boys

Helen's father, husband, and son come to terms with themselves when they come close to losing the one they care for the most.



Kindle eBook


NOOK eBook


April Leaves

April's mother is bound and determined to move her teenage daughter and twin boys away from her cheating husband, but April has a different plan.



Kindle eBook


NOOK eBook


Pass It On

A simple act of kindness snowballs through the lives of strangers, leading to a change of heart that stops a man from committing the ultimate sin.



Kindle eBook


NOOK eBook


Autumn

2015 Royal Palm Literary Award Finalist


Teenager Marshall overcomes his fears and befriends a head-strong girl at the airport who's in need of a friend herself.

Kindle eBook


NOOK eBook


The Higher Toll

Twenty-something Danny consuls his drunk, disillusioned uncle, the man who helped navigate Danny's teenage life when he most needed a role model.



Kindle eBook


NOOK eBook


Daddy Was Santa

2016 Royal Palm Literary Award Winner


Christopher discovers a secret: Daddy's Santa. But reality stops the five-year-old from having what he desires most.

Kindle eBook


NOOK eBook


Scaling

2015 Royal Palm Literary Award Finalist


Faced with scaling a fish his older brother caught, 11-year-old Patrick grapples with manning up after no longer having a father in his life.

Kindle eBook


NOOK eBook


Mörderbaum

After a man loses his wife, the tree he planted for her takes on a horrific life of its own - a killer tree.



Kindle eBook


NOOK eBook


Two Milers

2016 Royal Palm Literary Award Winner


Underdog distance runner, nicknamed Turtle, fights for his last chance to not disappoint his hero and mentor, older brother Devon, in his final two mile track meet.

Kindle eBook


NOOK eBook


Voices in the Attic

Everyone thinks Elizabeth is crazy for hearing voices in the attic, but she'll show them.



Kindle eBook


NOOK eBook


Dylan

2015 Royal Palm Literary Award Semi-Finalist


Tragedy leads eight-year-old Dylan into foster care of a turbulent family until he decides to do something about it.

Kindle eBook


NOOK eBook

John's Shorts Volume 1

---

The Gardeners

Seven-year-old Tyler puts his uncle's training into practice after his explosive anger leads to a shocking end.



Kindle eBook


NOOK eBook


White Walls

2005 CrossTIME Science Fiction/Fantasy Honorable Mention


A young man, enslaved to a machine that forces him and others to compose stories in order to reach the Creative Object, struggles to break free.

Kindle eBook


NOOK eBook


The Divide

2015 Royal Palm Literary Award Finalist


A hidden gate leads twelve-year-old Conner down a domino path of worsening circumstances and places him at the center of a possible war.

Kindle eBook


NOOK eBook


Beating Cats

2014 Royal Palm Literary Award Winner


A teenage crush for a boy sends Kat on a downward spiral as she wrestles with the loss of her baby brother. WARNING: Mature content

Kindle eBook


NOOK eBook


From the Pedestal

Fifth grader Cody and his older cousin Max set out on a hilarious, surreal journey in search of the fabled Pedestal Award, and they pick up a few friends along the way.



Kindle eBook


NOOK eBook


Free the Elephant / Scarred

Two Flash Fiction Stories
Free the Elephant - Seven-year-old Abby pines for Daddy to tell her stories, which he keeps bottled while working a job he hates.

Scarred - A young man seeks justice for the wrong his father inflicted on him.

Kindle eBook


NOOK eBook


Living in Illusions

2004 CrossTIME Science Fiction/Fantasy Honorable Mention


An unexpected visit from a Christmas angel gives Mike an opportunity to bring back his deceased father, but he realizes something he chose to forget.

Kindle eBook


NOOK eBook


The Dance

2014 Royal Palm Literary Award Winner


Five-year-old David yearns to be at a high school dance like his hero, his older brother, but eventually finds something better.

Kindle eBook


NOOK eBook


Echo

2014 Royal Palm Literary Award Finalist


A dad and his search-and-rescue dog Echo look for traces of his lost teenage daughter, with whom he's emotionally lost contact.

Kindle eBook


NOOK eBook


Teenagehood

2013 Royal Palm Literary Award Finalist


A disenchanted father rediscovers the joys of parenthood by helping his teenage son overcome his fears of meeting a girl he likes.

Kindle eBook


NOOK eBook


The Madison Project

2015 Royal Palm Literary Award Winner


When Carter travels to a deceased scientist's isolated laboratory, he uncovers a secret experimental project that goes deeper than he ever imagined.

Kindle eBook


NOOK eBook


Absolute Power

2013 Writers of the Future Honorable Mention


Twelve selected brave souls risk everything to acquire absolute power from a mysterious witch who holds the secret behind her dark magic.

Kindle eBook


NOOK eBook